Yaber Pico T1 projector review
Introduction
You want a projector to take everywhere with you or just one that doesn't take space in your living room? Thanks to the magic of LED and DLP technology, projectors come in many sizes. The smallest of these are generally referred to as Pico projectors, and the Yaber Pico T1 is certainly among the most exciting prospects in the category. It is one of the most pocked-friendly projectors we've seen to date, measuring just 0.52″ in thickness.
The limitations to performance are inevitable tradeoff of a pico projector. The Yaber Pico T1 advertises 110 ANSI lumens of brightness and 540p resolution. Despite its powerbank-like form factor it lacks an onboard battery, but what it does have is Android TV on board, making it a nifty self-contained multimedia player that only needs external power to function.
Yaber Pico T1 specs at a glance:


Dimensions: 150x75x13.1mm, 150 grams.

Optical parameters: DLP projector; 540p (960 x 540 pixels) optical resolution; 16:9 aspect ratio; 350:1 contrast ratio.

Projection parameters: 110 ANSI lumens (advertised); 10~100-inch screen diagonal; 0.3 – 2m projection distance; 1.2:1 throw ratio; 30,000 hours RGB LED light source life; luminance uniformity > 85% (advertised).

Optical adjustment: Automatic vertical keystone correction; manual focus.

Audio: 1.5W single speaker.

Internals: HiSilicon Hi3751V350 (4xCortex-A53 @ 1.0 GHz); Mali-450 GPU; 1GB of RAM; 32GB storage.

Hardware video decoder: H.264, H.265, MPEG1, MPEG2, VP6, VP8, VP9; AAC_LC, HE_AAC, HE_AACV2, LPCM, MP3, APE.

I/O: 2xUSB Type-C port: one for power (Quick Charge only,
Wireless connectivity: Wi-Fi ac; Bluetooth 4.2; IR remote control.

Software: Android TV 9.

Other features:Remote control in box; Wireless projection support (Miracast, Apple AirPlay, Eshare); Wired Android phone mirroring through proprietary app.
Other highlights include a compact yet very functional remote control on top of integrated touch controls on the unit itself. And the Yaber Pico T1 can do automatic vertical keystone correction, which is not something we would have expected out of a projector of this size.
But can the little guy impress us in practice? Follow along for our review to find out.
Unboxing and accessories
The Pico T1 comes in a pretty non-descript box. Inside, you get a USB Type-C 20W QC wall charger along with two USB cables – one Type-A to Type-C and the other Type-C to Type-C. There's also a nifty compact tripod that attaches magnetically to the projector as well as a mini-HDMI to HDMI cable.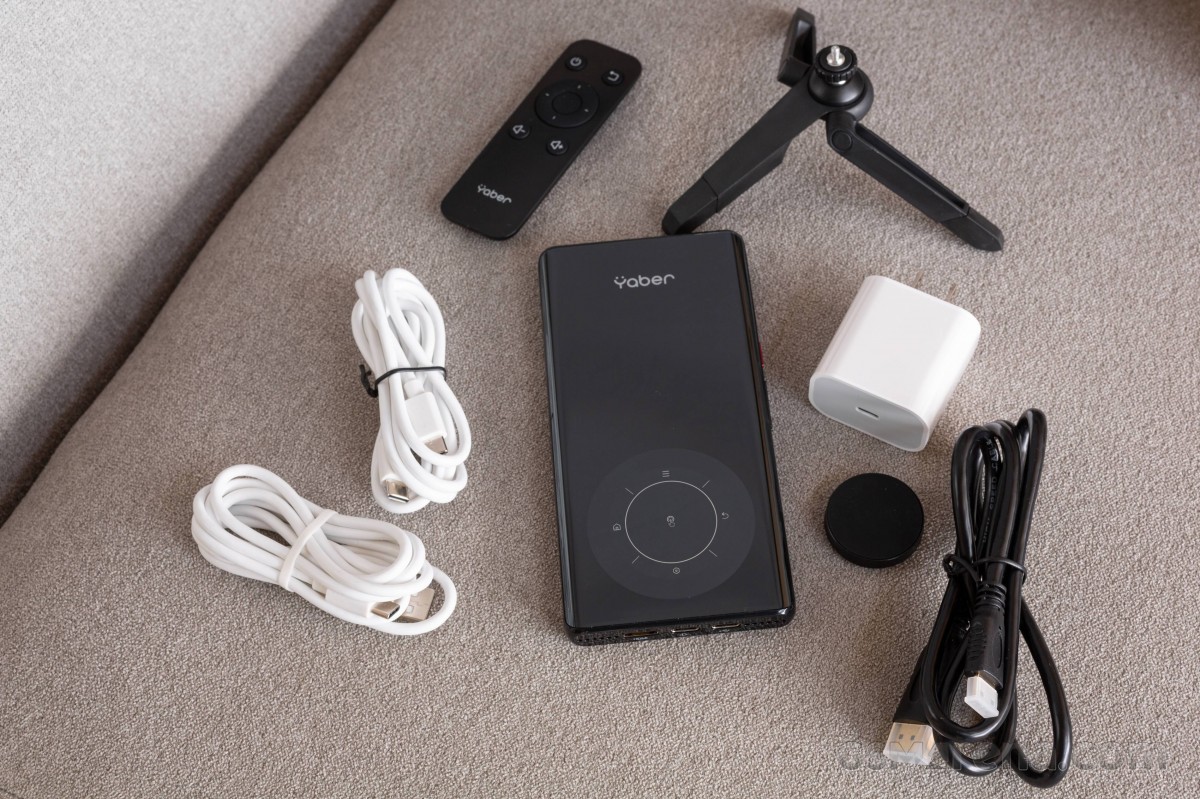 The $28 more expensive IndieGoGo special pack also nets you a 10,000 mAh power back with integrated cables, including a Type-C one to use with the Pico T1. The IndieGoGo crowdfunding page for the project also shows a nice carrying case, but that's not a part of any of the currently available product bundles.
Controls and connectivity
The Yaber Pico T1's right-hand side houses a power button and volume rocker, much like a smartphone would. Above that, we find a manual focus wheel. The left frame of the Pico T1 is bereft of control.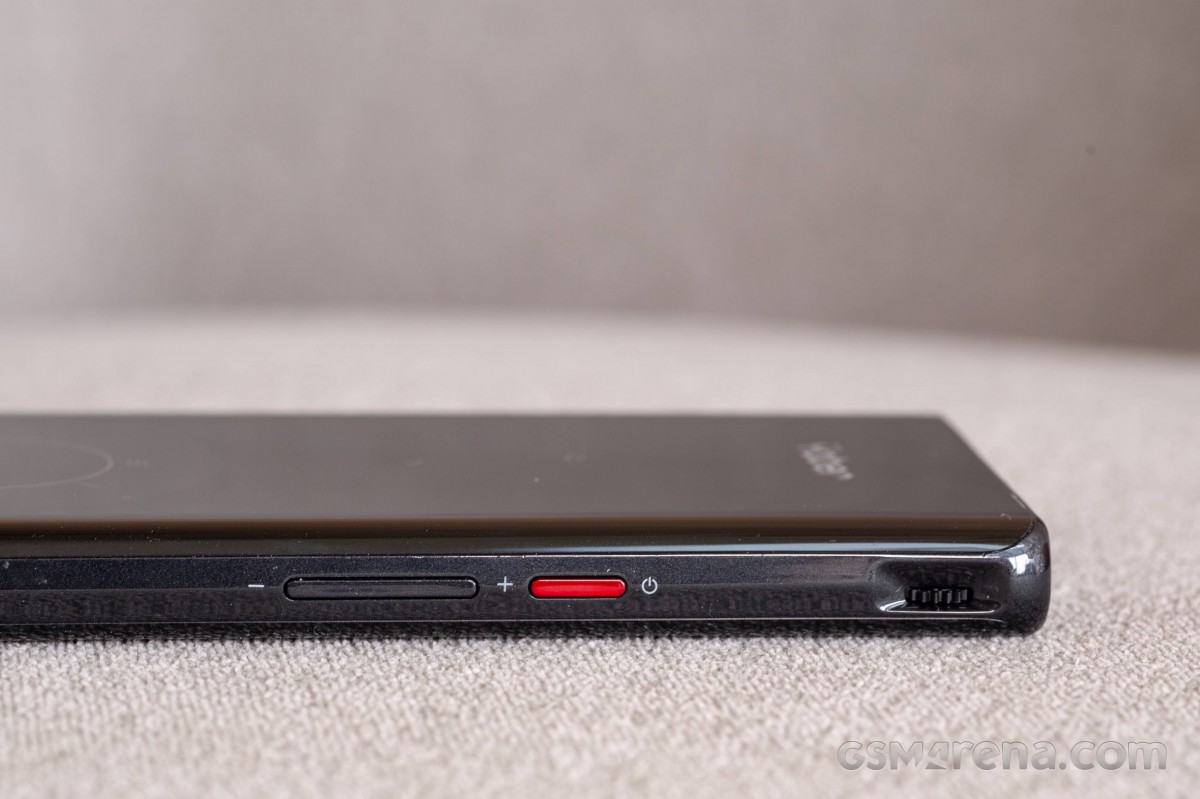 The front of the unit houses the optics of the projector, as well as a vent. The small fan here seems to only have one speed, and it's about as loud as a laptop fan going full steam. There is also a mysterious sensor here, likely some sort of laser or TOF, that is in charge of the automatic vertical keystone correction.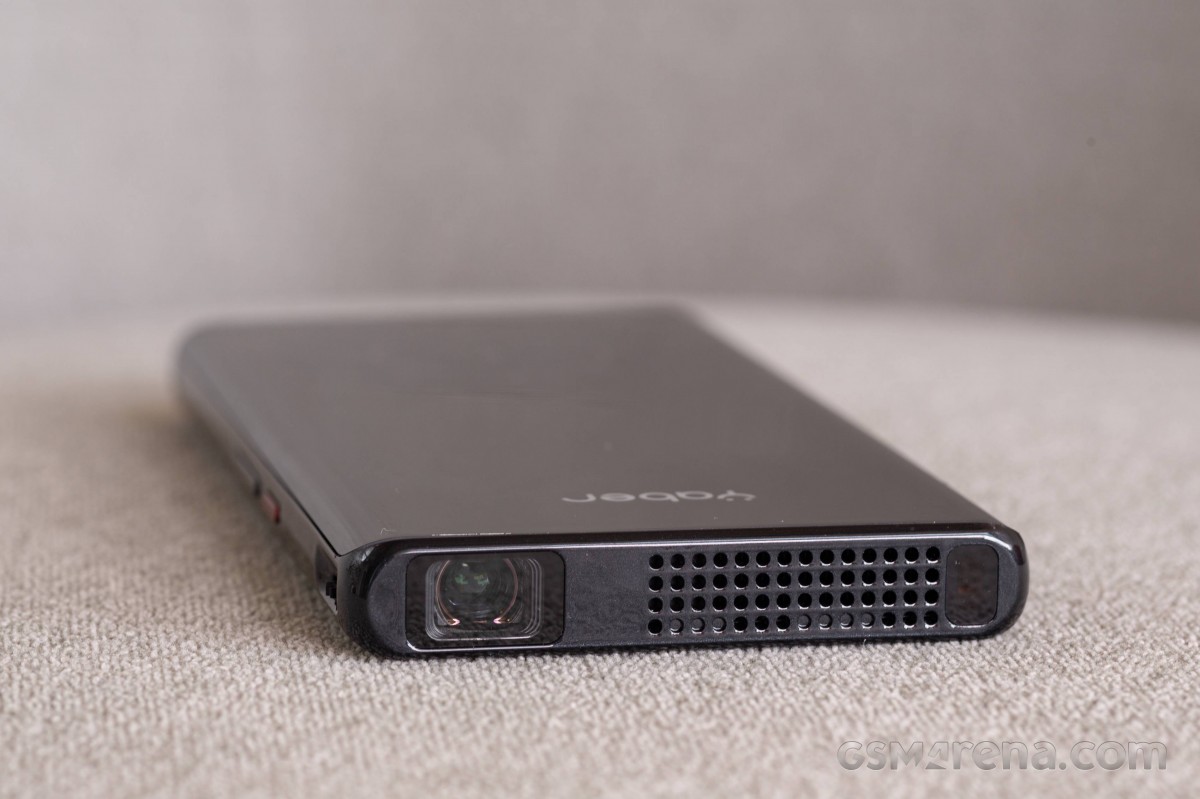 The rear side of the Pico T1 has a 1.5W speaker as well as a trio of ports – two Type-C ports and a mini-HDMI port. Of the two Type-C ports, one is just meant to power the device. The Pico T1 supports Quick Charge power with rated inputs of 5V@3A, 9V@2A and 12V@1.5A. The total power rating for the projector is 9W.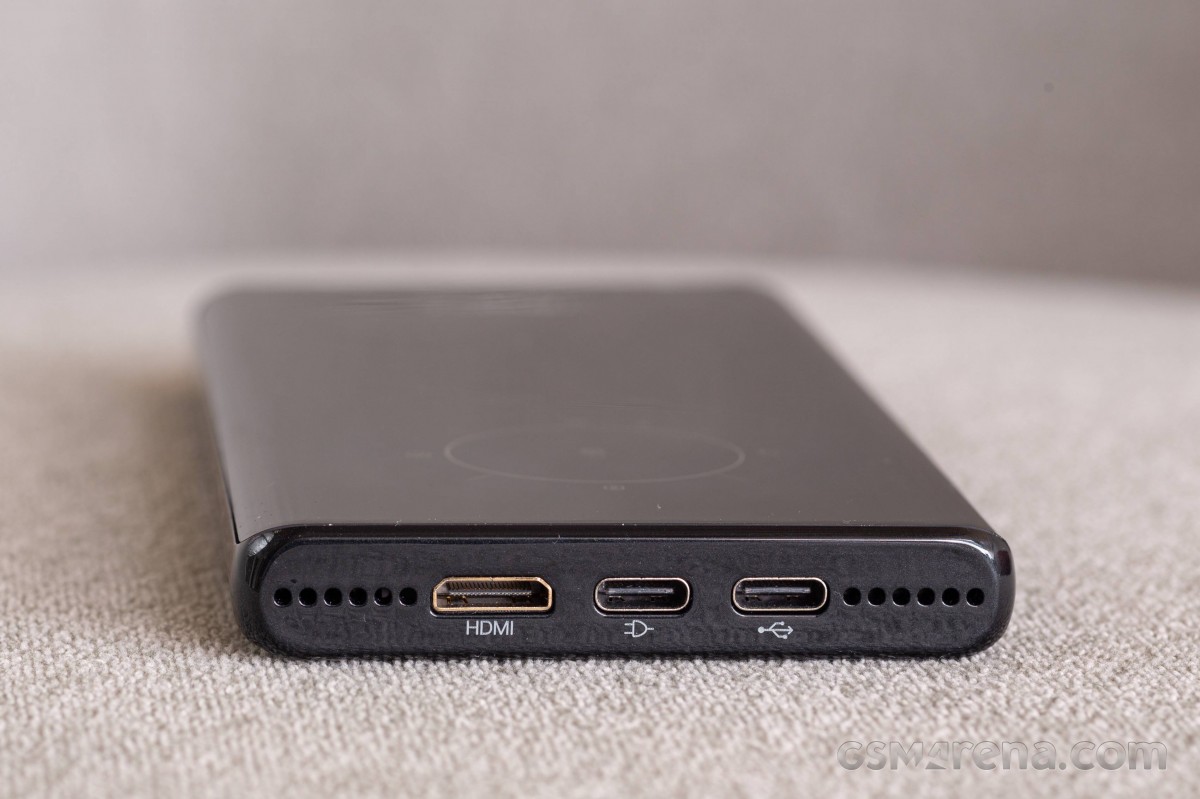 The other USB Type-C port is a data port. It has USB Host functionality and can take things like a standard HID device like a mouse or keyboard and attach storage mediums. This port can also be used to mirror an Android phone's display, but only by using a proprietary eShareLine app. It is important to note that this USB lacks any standard video over USB functionality like you would find on, modern external monitors.
The Pico T1 can either be controlled through the touchpad, and capacitive combo on the top of the device or the included mini remote control.
Built-in Android TV and features
The Yaber Pico T1 is a 110-lumen pico projector with an HDMI input and built-in wireless casting functionality, which is already intriguing. However, the built-in Android TV guts make it special beyond that. Let's quickly go over what is included here and what limitations and issues we encountered.
Yaber has its own TV launcher of some sort, which looks and works decently. It revolves around a vertical menu with some self-explanatory options.
There is a basic file browser right on the main menu to browse local media and quick access to a wireless streaming app that supports Miracast and Apple AirPlay, as well as a proprietary Eshare communication scheme. There are also options for wired streaming from both Android and iOS phones.
Yaber has a proprietary app store as well, but that has a very limited selection of apps.
The settings menu is very simple. All of the basic options like display rotation, keystone adjustments, brightness, language and input methods are convenient to access.
There is a more advanced settings menu as well, which brings you to the standard Android TV settings menu. This is where we ran into our first major issue, though. The regular Android TV settings menu just crashes regardless of what option we selected.
This made it impossible to set up some apps like a button remapper or any additional app stores since we were unable to enable the accessibility access and install privileges, respectively. Hopefully, this is just an early software bug with our unit, which will be ironed out.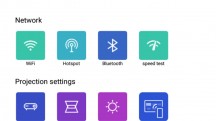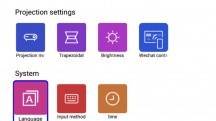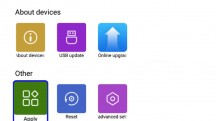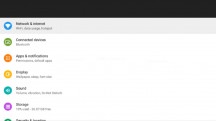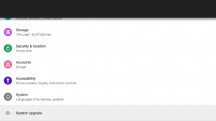 Advanced settings menu and broken Android TV settings
Speaking of installing things, we are happy to say that the Yaber Pico T1 has functioning Google Play Services. That means access to the Google Play Store and its pretty substantial collection of Android TV apps. At least, that's great to see since the proprietary app store is barren.
We might not have the ability to easily sideload apps, but at least the Google Play Store has a few nice Android TV launchers, like our personal favorite – the ATV launcher.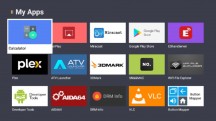 Alternative Android TV launchers
Once you install it, you can even set it as the default by pressing the home button on the Yaber Pico T1. However, you will be stuck with your launcher selection without proper access to the Android TV settings until you install another launcher to get the selection menu again. It's a clunky limitation to deal with.
Performance
Let's now talk about how well the Yaber Pico T1 performs when you are done setting it up.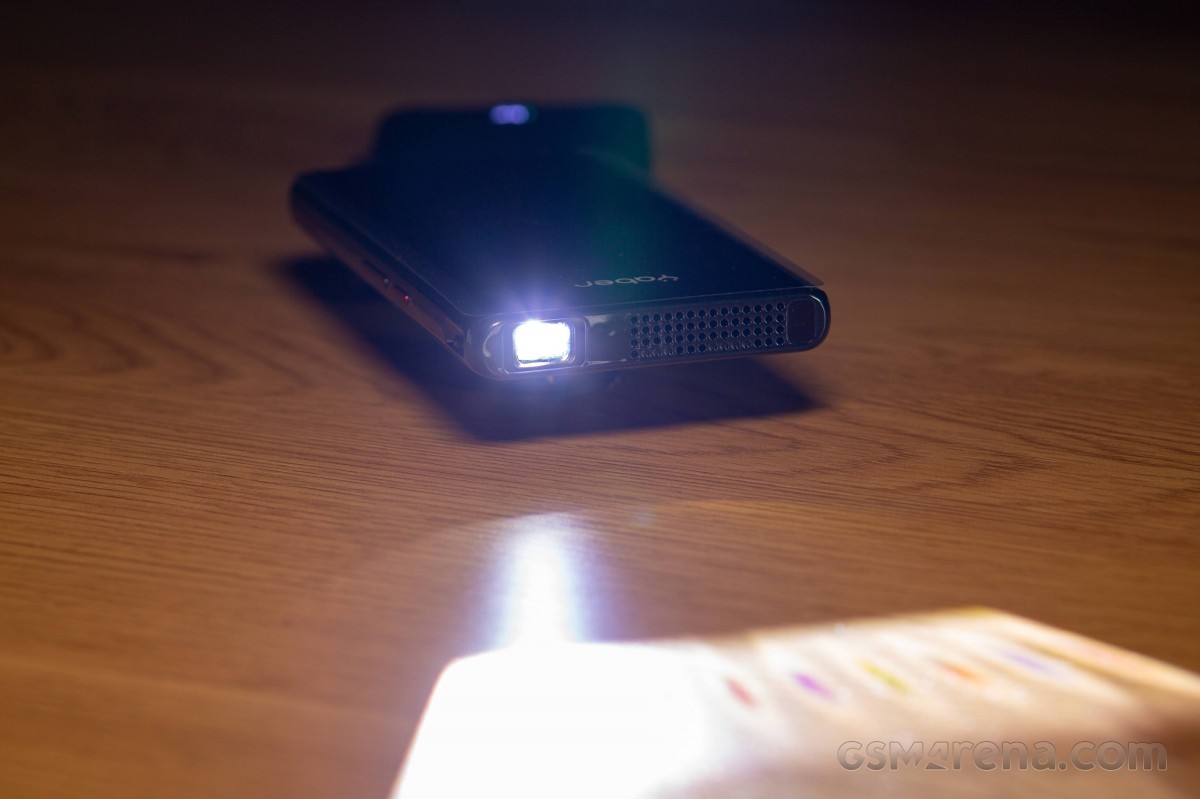 The Yaber Pico T1 isn't particularly bright. The advertised 110 lumens match reality. With brightness on this scale, you can only expect a vaguely pleasurable experience in a light-controlled room or at night and at a diagonal of no more than about 60 inches.
The 960 x 540-pixel resolution is also a bit too low for most text in modern UIs to be legible. You can get away with a large font presentation, but forget about activities like browsing the web.
The Yaber Pico T1 is best suited for very casual movie watching in a pinch.
What can you expect out of the tiny Android TV internals? Well, here are some screenshots from Aida64 and DRM Info to check on its specs.
The Yaber Pico T1 packs a HiSilicon Hi3751V350 chipset, which has just four Cortex-A53 cores at its disposal and a Mali-450 GPU. It is paired with 1GB of RAM and 32GB of internal storage. That's a pretty anemic chipset you would probably find in a set-top-box rather than an Android TV device. If you really want to get into the nitty-gritty, you can head on over to the official chipset specs page.
The most important specs, arguably, are related to the hardware video decoder. The Hi3751V350 can handle H.264, H.265 (HEVC), VP6/8/9, MVC, MPEG1/2/3/4, AVS and VC-1 at up to 1080p@60fps. That's plenty to saturate the 540p resolution of the Yaber Pico T1 projector.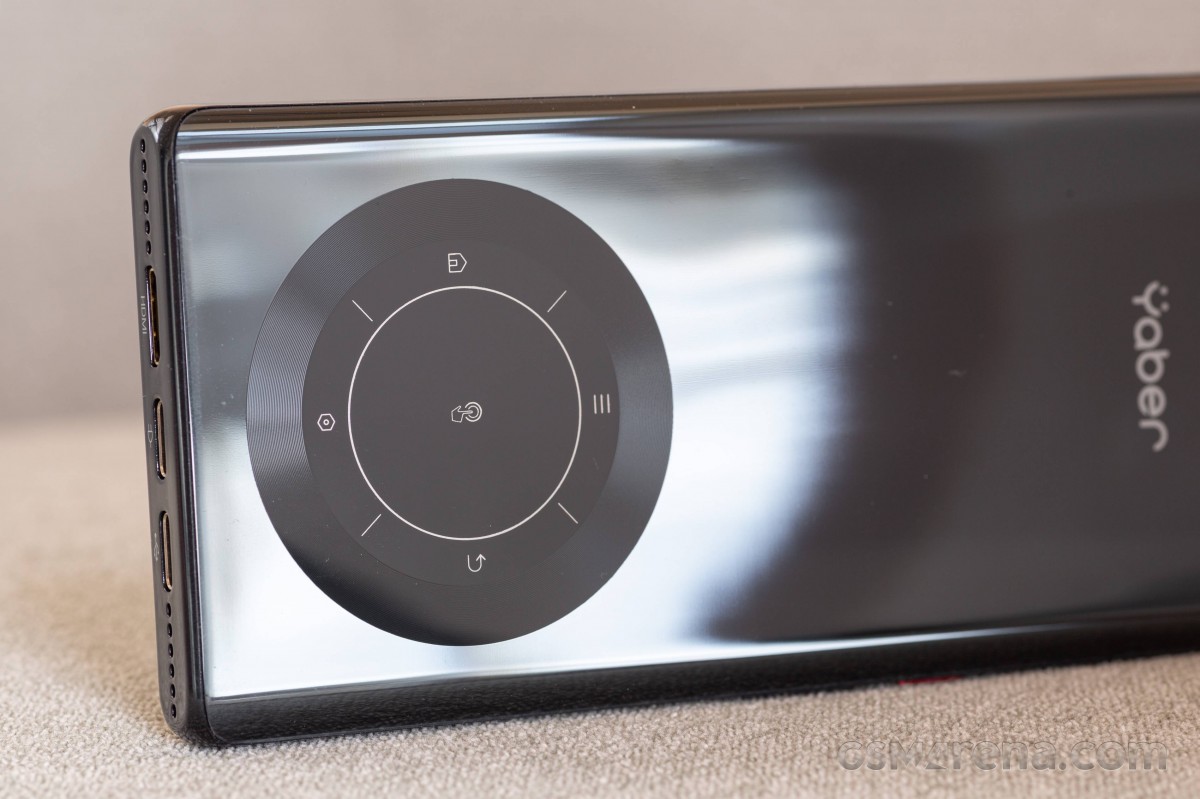 We did some performance testing and can verify that the UI runs pretty smoothly. Also, 1080p video from YouTube runs just fine without hiccups or stutters.
We pushed the Yaber Pico T1 further still by installing Plex on it. Its UI ran very smooth as well, and we even managed to get some 4K streams working at around 20 Mbps with minimal stutter. Not that you would even need to push quality past HD or FullHD as this is a mere 540p projector.
We had some jellyfish bitrate video test files lined up for testing as well on an external USB SSD, but the Yaber Pico T1 failed to read the drive.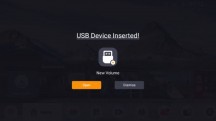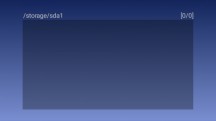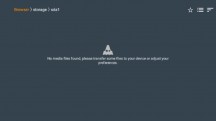 Failing to read an external drive
It mounted it without issue but then failed to read the exFAT file system. We tried an NTFS drive as well, with no luck. Again, we hope that this is just an early software issue with our unit that will get ironed out.
We tried running some benchmarks on the Yaber Pico T1 as well. The only thing that actually managed to run was the old T-Rex test in GFXBench, which scored under 10fps on screen.
It is safe to say that you won't be gaming on the Yaber Pico T1. Though that being said, GeForce Now ran just fine on the little projector.
Final thoughts
The Yaber Pico T1 is a cool gadget that mostly delivers on its promises to be a very slim portable projector with solid built-in smarts. It's just that you need to know this class of device's limitations. One hundred ten lumens is pretty dim, and 540p resolution, while good for a pico projector, is too low for most fine UI elements and text.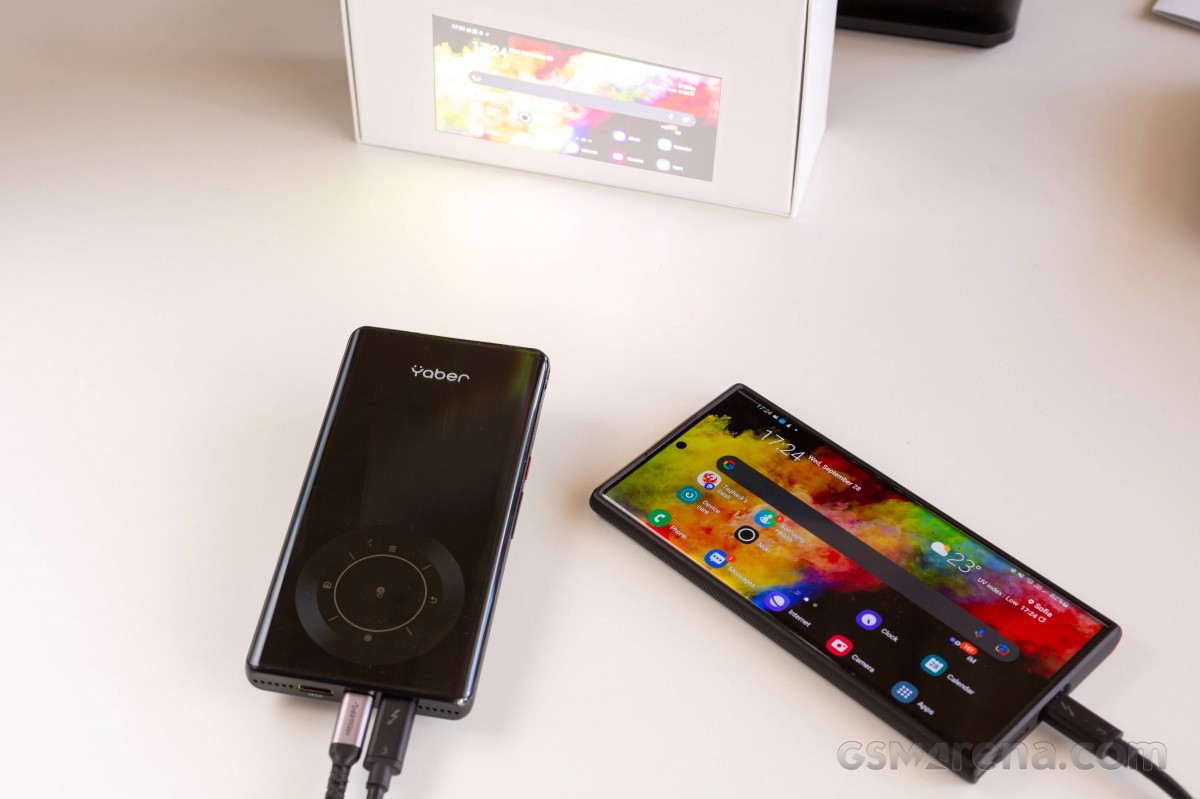 If you want a cool gadget to whip out in a pinch and entertain yourself or perhaps your kids with a movie or some animated series, the Yaber Pico T1 delivers. Even in the current, admittedly rough and early state we experienced it in. You should look elsewhere if you expect any performance or flexibility beyond this straightforward use case.
You can read more about the Yaber Pico T1 or pick one up on their IndieGoGo page.