Three years in, keyboard-equipped Astro Slide is a dead end
The touchscreen revolution wiped out physical keyboard from pocketable devices – but if you loved your Nokia E7 or a Sony Vaio P, you may have wished for a modern alternative. Planet Computers sought to grant those wishes with the Astro Slide 5G Transformer.
The device had a physical keyboard that slides out from the side and promised boot either Android or Linux, depending on whether you want something more phone-like or PC-like. In retrospect that should have been red flag number 1 since none of those dual-booting smartphones was ever a big success.
Planet Computers kicked off a crowd-funding campaign in early 2020 on IndieGoGo to try and finance the building of the device. Early backers got a massive 40% discount, so the Slide would cost them just €490, down from the expected retail price of €820.
In January 2022 CG renders turned into actual hardware that was shown off at CES. Specs included a 6.39" AMOLED display (FHD+), a Dimensity 800 chipset (with 5G connectivity), 8GB of RAM and 128GB storage (expandable). The first deliveries were expected in March.
It's now 2023 and very few have received their Astro Slide. The shipping date slipped several times – it was July 2022 at one point, then September/October, then January 2023. Naturally, the pandemic and the related manufacturing woes that all companies experienced couldn't have helped, but if you look at the just under $3M pledged by early backers you'll see another red flag. That's barely enough to mass produce a standard mid-ranger that ODM offer, but far from sufficient for a project as ambitious as the Astro Slide.
The latest update (posted a couple of weeks ago) mentions that travel restrictions in China have finally been lifted so the Planet Computers team can visit the factory, meet the management and inspect the facilities.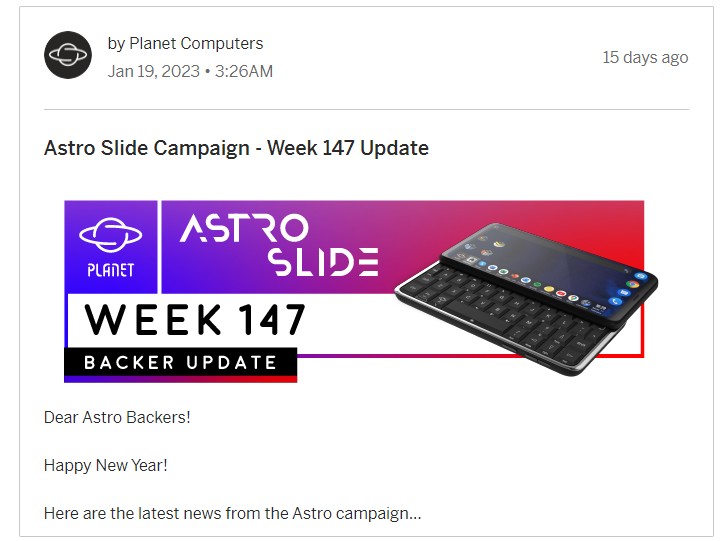 The company says that Astro Slides with French and Arabic keyboards are shipping and that is confirmed by backers – several people from France have commented that they have received their units.
More Astros with US, Japanese, UK, German and Swedish layouts are due to ship out "over the next few weeks" (again, this was posted a couple of weeks ago), devices with French and Arabic layouts will continue shipping as well. But a quick glance at the comments section will be enough to tell you that delivered units are but a drop in a sea of undelivered units.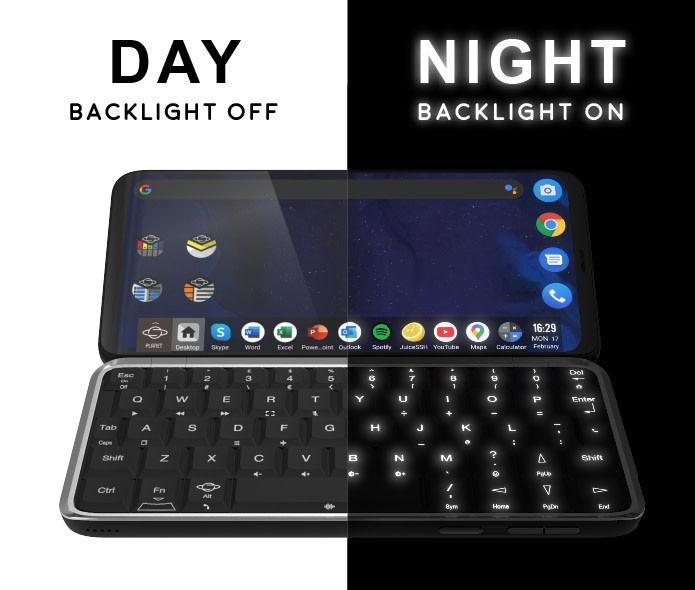 What went wrong? We have no knowledge of what has been going on besides the scenes, but the issue seems clear enough – the thing that made the Astro Slide exciting is also the thing that is causing its downfall.
Mechanical full keyboard, 24 Layouts
Arabic, Chinese, Croatian, Czech, Dvorak, Finnish / Swedish, French, German, Greek, Hebrew, Hungarian, Icelandic, Italian, Japanese, Korean, Norwegian / Danish, Polish, Portuguese, Russian, Spanish, Swiss, Thai, English UK, English US
If you go to the IndieGoGo page you will see that you can still back the project and choose from one of 9 keyboard layouts. The specs table lists 24 layouts in total, which means 24 SKUs to produce. And unlike the charger (which is also a selectable option), the keyboard can't be packaged separately.
Laptops face the same issue, of course, but most are made by much larger companies. And smartphones, well, their touchscreens let you run any keyboard you want, from English to Korean, from Morse code to Klingon, so they side-step the issue completely.
Anyway, whatever the reason for the delays, backers of the Astro Slide are hard done. Some have waited two years (some three) and still haven't received the device, and by now even if they did get something it would be next to worthless. The Android OS is two versions behind, so is Wi-Fi 5 (ac), the Dimensity 800 chip was never a powerhouse to begin with.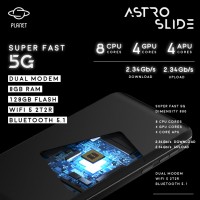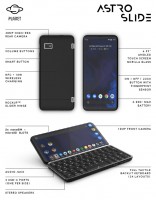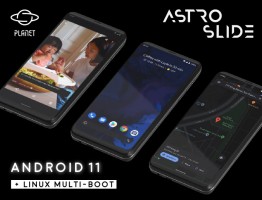 Project Computer's Astro Slide
While the system is outdated, in some ways it is very new. We spoke with one backer who received their unit 2 years and 9 months after backing the project. The software is reportedly very buggy and with the ways things are progressing we wouldn't expect any quick fixes.
The backer also reports that the Astro Slide has poor build quality with cheap-feeling plastic. And its main feature, the hardware keyboard, is far from the best with issues like short key travel.
The story of Planet Computers' Astro Slide 5G Transformer is a stark reminder of how hard it is to crack into the smartphone world. Hardware keyboards especially are proving to be a huge challenge. A relatively recent attempt at reviving BlackBerry phones didn't even make it to the concept stage – at least no concept devices were shared with the public.
Are you an Astro Slide backer? If so, we'd love to hear from you in the comments section.