Samsung Australia fined AUD 14M over misleading water resistance ads
Back in 2019, Samsung Australia was taken to court by the The Australian Competition and Consumer Commission (ACCC) over misleading water resistance advertisement of its phones. The Korean tech giant repeatedly advertised several of its Galaxy S, Galaxy A and Galaxy Note phones as being suitable to use in pool and sea water in its marketing ads. Nearly three years later the Aussie court has ordered Samsung Australia to pay AUD 14 million (around $9.6 million) in fines for its misleading smartphone advertisements.



Sample Australian Galaxy S8 ad
The ACCC press release explicitly mentions a group of IP68-rated Samsung phones including the Galaxy S7, S7 Edge, Galaxy A5 (2017), Galaxy A7 (2017), Galaxy S8, S8 Plus and Galaxy Note8 as being illustrated for use in pool and sea water environments based on the ads.
ACCC claims that 3.1 million combined units of the aforementioned devices were sold in Australia and the misleading advertisements ran between March 2016 and October 2018. The regulator argues that these ads incentivized users to buy and use their devices as depicted in the ads like taking underwater selfies in the ocean for example.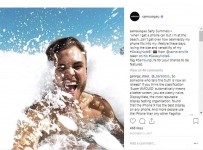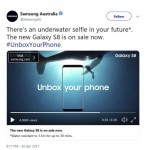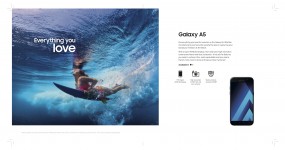 Other examples of the "misleading" Samsung ads
The results were numerous user complaints of phones being damaged as a result of salt water corroding the charging ports and even completely killing the devices. Water damage is notably not covered by warranty so plenty of consumers were left with unusable devices.