Pixel 7's Tensor 2 chipset might offer only modest performance improvements
Google has revealed only a few details about the upcoming Pixel 7 series, but we know that working prototypes exist – one even ended up eBay. Another such prototype, a bricked Pixel 7 Pro, was used by the Google News Telegram group to dig up additional info on the new models.
While the phone itself was bricked, the group managed to extract boot logs. Combing through those, they discovered that the Tensor 2 chipset features Cortex-A55 cores. This is the last little core based on the ARMv8 architecture, the new design (A510) is based on ARMv9. And since the two architectures can't coexist on a single chipset, that means that the other CPU cores are also old ARMv8 designs.
The logs also revealed that the Tensor 2 will maintain the 2+2+4 CPU core configuration. The original Tensor chip had two Cortex-X1 cores, two Cortex-A76 and four A55. The A55s clearly will remain in place and so will the two X1 – the new X2 core is ARMv9. There is still the possibility of new medium cores since the original designed used old A76 cores instead of the latest the Cortex-A78 (the last of the ARMv8 medium cores).
This means that we can't expect major performance improvements from the Tensor 2 chipset, at least not as far as CPU-bound tasks are concerned. The original Tensor was already not the fastest chip on the market when it came out last year, this year the difference will be even more pronounced.
That said, we still don't know what Google has planned for the GPU and other hardware. Image processing is one of the aces up Google's sleeve and that is handled by the ISP and TPU (Tensor Processing Unit).
Anyway, the prototype unit also featured a new display panel, S6E3HC4 from Samsung. This will probably replace the S6E3HC3 panel of the Pixel 6 Pro, but again we are expecting marginal improvements – the resolution and refresh rate will remain the same (1,440 x 3,120px, 120Hz).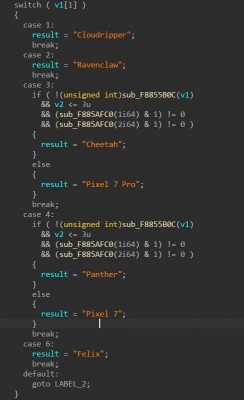 Panther = Pixel 7, Cheetah = Pixel 7 Pro
Finally, the logs confirmed the code names for the two phones – the Pixel 7 is "Panther", the Pixel 7 Pro is "Cheetah". There is also "Felix", which is probably a yet to be revealed Pixel 7a. The Pixel 7 and 7 Pro are expected to launch in October (along with the Pixel Watch).