Apple unveils M2 chipset with 18% faster CPU, 35% faster GPU compared to the M1
At its WWDC event today, Apple announced the M2 chipset, the successor to the M1, its first custom designed ARM-based computer chip which was unveiled back in November 2020.
The M2 is at the heart of the new MacBook Air and the new 13″ MacBook Pro. The new chip is built on a second-generation 5nm process, and compared to the M1, its 8-core CPU delivers 18% better performance. This is due to the performance cores being faster and paired with a larger cache, while the efficiency cores have also been "significantly enhanced for even greater performance gains", Apple says.
Compared to the Intel Core i7-1255U in the Samsung Galaxy Book2 360, the CPU in the M2 provides "nearly twice the performance at the same power level", and also delivers the peak performance of the Intel chip while using just a quarter of power, Apple boasts. Compared to the 12-core Intel Core i7-1260P in the MSI Prestige 14Evo, the M2 "provides nearly 90% of the peak performance" while using just one-fourth the power.
The GPU cores seem to be the same, but slightly more efficient than the M1's, since the M2 with 10 cores can deliver 25% better performance than the M1's 8-core GPU at the same power draw. With some added power draw, that performance delta increases to 35%. Compared to the integrated graphics in that Samsung Galaxy Book2 360, Apple says this GPU is 2.3x faster at the same power level, and matches its peak performance using a fifth of the power.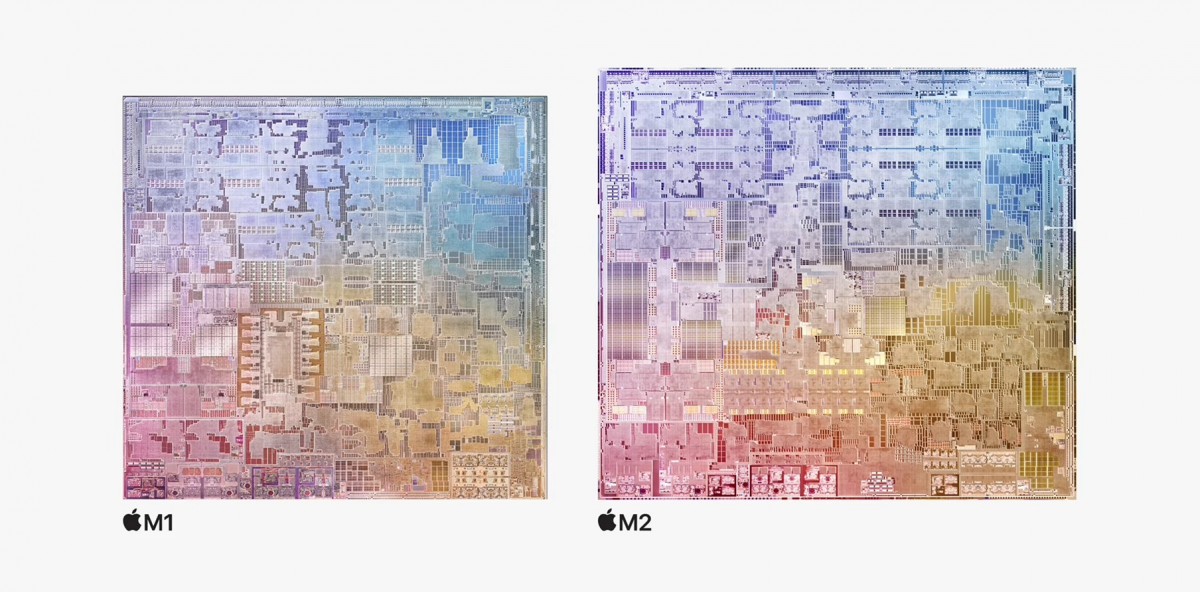 The 16-core neural engine is 40% faster than the M1's, being able to process up to 15.8 trillion operations per second, and you also get 50% more memory bandwidth, now 100GB/s. Speaking of memory, the M2 supports up to 24GB of LPDDR5 RAM.
The chipset has over 20 billion transistors (that's 25% more than the M1), supports 6K external displays, as well as ProRes encode and decode, 8K H.264, and HEVC video.